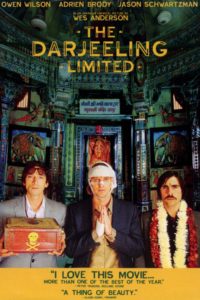 Distance in the Family: Take a Ride on the Darjeeling Limited (Owen Wilson)
Notice of Series in Progress– Sibling Position, Anxiety, and Family Process.
Frances, the eldest of the three Whitman brothers (played by Owen Wilson) makes the following announcement as they launch a trip across India on The Darjeeling Limited: "I want us to become brothers like we used to be. I want us to make this a spiritual journey where each of us seeks the unknown and we learn about it. Can we agree to that? I want us to be completely open and say yes to everything even if it's shocking and painful—can we agree to that?"  
Each of us grows up in a family in which we learn how to manage or try to manage anxiety. While research on family patterns cannot predict how a specific individual will turn out, results consistently show that the 'automatic' ways we learn to manage anxiety strongly influence our relationships as adults.
How do you 'move automatically' in relationships when you feel threatened? Remember that the 'threats' we regularly encounter (or think we encounter) have to do with threats to self-esteem or sense of safety in the relationship.
The main article on Distance and Closeness in Relationships is in progress.